---
PostED ON OCTOBER 16 AT 5 :56 pm

---
Receiving a standing ovation for the premiere of his film Bye Bye Morons, Albert Dupontel delighted the public at the Comédie Odéon Friday morning for his very first Master class. With devastating humour and an acerbic take on society, this unparalleled cinephile confided in the audience without holding back. An exercise both sincere and poetic, like his films.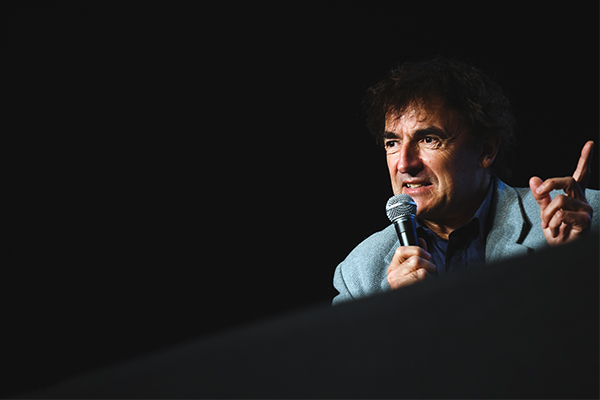 Copyright Institut Lumière / Olivier Chassignole
The attraction for the imagination

As a child, I quickly realized that I understood life more in my imagination than in reality. One of my earliest memories of cinema was the Sunday night movies: I remember being overwhelmed when I saw The Last Adventure by Robert Enrico, I was on the verge of tears. Later, I went from cinéphage (devourer of films) to cinephile by discovering movies of my idols: Tati, Allen and of course the Monty Python movies.

Making the public travel

The cinema that I love is sensual cinema. The cinema makes me travel outrageously and that's what I want to do when I direct: I want viewers to escape for an hour and a half. I try, with my neuroses, to distract you!

9-Month Stretch

I was surprised by the success of the film; there were some gory scenes, I thought to myself, we are going to sell 200,000 tickets. I had kept the marginal guy to myself, and Sandrine Kiberlain was an honest character, different from the characters in my previous films, someone you can relate to more.

Bye Bye, Morons

Nicolas Marié (Monsieur Blin) did some tests six weeks before the shoot and he was great. He's someone I've known for thirty years, he's an incredible actor. Virginie Efira was part of a group of actresses that I wanted to work with. The final scene of the film in the parking lot was invented by her. I must have done two takes at the most.

Meeting Gaspar Noé

It was director Nicolas Boukhrief who introduced me to Gaspar at a nightclub in Paris: I saw a guy jumping all over the place, it was Gaspar! On the set of Irreversible, I was amazed by the character of Gaspar, he is an extremely intelligent man. I could see him teary-eyed on some takes. As an actor, I was sometimes confused on the set, but the film is very interesting. I lived it as an experience of modern art.

The next movie

I'm working on a film project: it's the story of a 40-year-old running for president... one wonders where this idea came from! The character was inspired by a documentary about Robert Kennedy that I saw on Netflix.

I am a forced optimist!

Reality is pretty extreme, especially right now. But I am not a nihilist, I am a forced optimist! I believe deeply in the human race. I'm just telling the stories of the little people lost in a system. I comment on the era I am experiencing, and since this one is atypical, it is transcribed in my writing.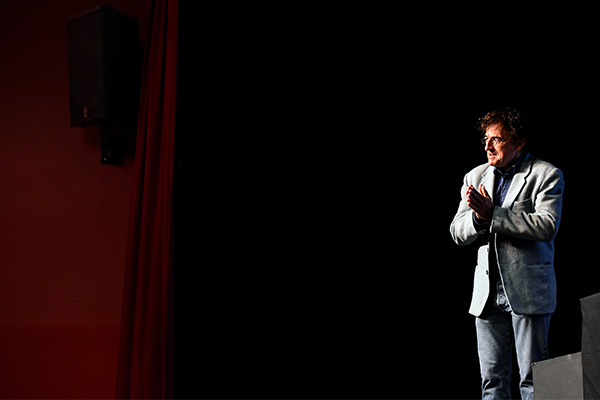 Copyright Institut Lumière / Olivier Chassignole
Laura Lépine