---
PostED ON OCTOBER 13. AT 6:58 PM

---
Every day, the filmmakers of the Cannes 2020 Official Selection tell us about their passion for the cinema; because the films of today are born from those of yesterday.
Which classic film has left its mark on you the most?
The River by Jean Renoir for its aesthetic beauty, its sublime colours, its innocent and cruel childhood world (which also reminds me of another great film, Germany Year Zero by Rossellini), its "deterritorialization" (in India, in English ...), its journey to the ends of exoticism. Everything is magical.


What filmmaker did you learn the most from by seeing his or her films?

Rainer Werner Fassbinder, because his films are imperfect, and suddenly viscerally human, and so giving. We can identify with them. Fox and His Friends, Fear Eats the Soul, among others, overwhelm me.


Is there a particular scene from the history of cinema that inspired you?

Merry Christmas Mr. Lawrence by Nagisa Oshima starring David Bowie, a strange object of desire for me... With his head sticking out of the earth. I liked it so much in this film that I saw when I was 13, I must have decided to make movies at that time...


An actor or actress from the past that you would have liked to have filmed?

Delphine Seyrig. Marlene Dietrich. Faten Hamama [Egyptian film star]. Any one of them.


The classic movie that you haven't seen and dream of seeing?

2001: A Space Odyssey, A Clockwork Orange, Lolita... Several Kubrick films. But I don't like his manic perfectionism. It terrifies me from the start.


---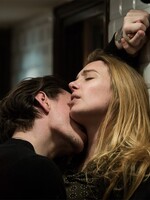 Simple Passion by Danielle Arbid (Passion simple, 2020, 1h39)
The physical addiction between a married man living abroad and a mother... A burning adaptation of the bestseller by French writer Annie Ernaux, with Laetitia Dosch and Sergei Polunin, former principal dancer of the Royal Ballet.
Theatrical release: January 13, 2021.
Production: Les Films Pelléas
Sales: Pyramide International
Distribution, France: Pyramide Distribution
A film coproduced by Auvergne-Rhône-Alpes Cinéma
Comœdia Wed. 14 at 8:30 pm