---
PostED ON OCTOBER 13 AT 6:44 PM

---
Every day, the filmmakers of the Cannes 2020 Official Selection share their passion for cinema with us... because the films of today are born from those of yesterday.
Which classic film impacted you the most?

Splendor in the Grass, by Elia Kazan. I discovered it at a young age, and I know it will always be with me. The directing struck me of course, but there was something else. A kind of pain that I felt when I saw it. I felt feverish. I saw actors who were burning with want and desire, and I think it's thanks to this movie that for the first time, I felt the need to fall in love. It tells the story of how two people cannot be completely together, and it is this repression, the fact that they don't dare, that they can't, that is revolting. To the extent that it inspires rage.
I remember Natalie Wood's trembling voice, her gaze, that was both so intelligent and so absent. It devastated me. Then the handsomeness of Warren Beatty and his selflessness made me both love and hate him. The ardour of the characters overwhelmed me; I wanted to be them. Seeing this film for the first time, I realized that there is nothing more heartbreaking and universal than love stories.
It's also the story about the passage of time, because in the end, Bud, Warren Beatty's character, finds someone else. I remember the scene at the end of the picture, when Natalie Wood comes to visit him, and she finds him with his new wife. I made me so sick that I spoke out loud. Strangely enough, it's one of the most violent movies I have seen. I don't think I'll ever get over it, much like a breakup in real life.


Which filmmaker did you learn the most from, watching his or her films?

Maurice Pialat. The first film I saw by him was À nos amours/To Our Loves. I remained motionless for the duration of the film. It was a film that shocked me, that moved me. I wanted to be in Pialat's brain, to understand how he had directed the actors, how he had imagined it all. I like people who are free, and who create sincerely. When I discovered his films, I saw the freest films in the world. And then, I love filmmakers who love actors, who absorb them while filming them. When I saw Loulou, it was delightful to see Depardieu and Huppert act and imagine that during all these meals scenes, which are dizzying by their staging and their veracity, Pialat was behind it all, orchestrating everything. And then there is anger, authority, but also humour and a lot of modesty in his cinema. For me, he's a genius, he films life like no one else.


Is there a particular scene from the history of cinema that has inspired you?

In Running on Empty, by Sidney Lumet, a family dinner for the mother's birthday. River Phoenix, the film's main character, has just arrived in New Jersey with the rest of his fugitive family, who are in hiding from the FBI. At his high school, he meets Lorna Phillips, played by Martha Plimpton, with whom he falls in love, and decides to invite her to this birthday dinner. He can't tell her who he really is. He is forced to hide it from her and lie about the identity of his parents and his brother. But over dinner, Lorna fits in, so much so that she looks like part of the family.
It's when they clear the table that Judd Hirsch, the father of River Phoenix in the film, turns up the sound of the radio- Fire and Rain by James Taylor is playing. Lorna begins to hum the song, and the father invites her to dance. At this very moment, when his love interest and his family are all together, we understand that the character of River Phoenix will have to make a choice. They all start to dance together, united, far from the burdens they encounter daily- lying to everyone to protect themselves. It is a joyous scene, but also one of infinite sadness. The first time I saw it, I was 11 years old. I put it on pause and cried for half an hour.


An actor or actress from the past that you would have liked to have filmed?

Patrick Dewaere. Because he has moist eyes, even when he's smiling, even when he's happy. He moves me. He's different, Patrick Dewaere, and he was unhappy, so when I see him, I want to help him, to love him. It's not pity, ever. It's admiration. And I have the impression that he is not acting, that it is who he is. He was the one I wanted to film, not a character I would have written for him. I think there are people who are so rare, so great and different, that they almost become monsters. Patrick Dewaere is that. He's an monster of acting, he's a charming monster, and an emotional monster. Yet he is never scary; on the contrary, he is just touching. He is an actor who would have inspired everything in me.


The classic movie that you have not seen and dream of seeing?

Frank Capra's Mr. Deeds Goes to Town. It's the biggest frustration I've had at the cinema. Five years ago, I went to the Cinémathèque to see it. I had dreamt of it, I had wanted to see it for a long time, but the film was nowhere to be found. I can see myself settling in the big theatre five minutes before the start of the picture, when I received a phone call from a boy I was dating at the time. I had completely forgotten about him, and he was waiting for me. It made me sick.
Obviously, I told him that I was on my way, and that I was just a little late. So, I grabbed my things and rushed out of the theatre, during the opening credits. It was horrible. I still remember that during the date, I was looking at my watch, imagining that, at that exact moment, the film had just ended. Since that day, I've been dying to see it, but I'd never managed to find it on DVD. And, a few days ago, I found someone who had it and lent it to me. I felt it was very precious because he insisted that I return it very quickly. So I'll be seeing it very soon!
---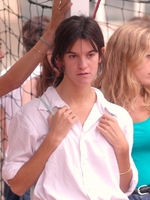 Spring Blossom by Suzanne Lindon (2020, 1h14)
Suzanne is sixteen when she falls in love with an older man… A promising debut film, a tale of an intimate nature, starring Arnaud Valois.
Theatrical release: December 9, 2020
Production: Avenue B. Productions
Sales: Luxbox
Distribution, France: Paname Distribution
Pathé Bellecour Wed. 14 at 6:30 pm