Sophie Seydoux,
laureate of the 2020 edition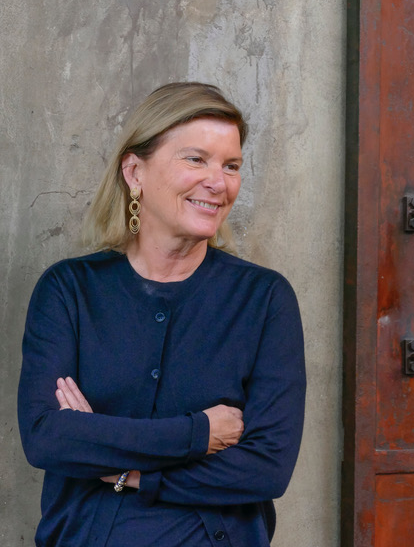 Sophie Seydoux
The Fabienne Vonier Prize, dedicated to women of cinema distinguished in production, distribution or operation, honours Sophie Seydoux this year, President of the Jérôme Seydoux-Pathé Foundation, for her endeavours in restoration and valorisation of heritage cinema, which she has led with passion for many years.

Under her direction and along with her team, ten films a year receive all the necessary technical treatment to experience new life in movie theatres and in the video publication market. Children of Paradise (Les Enfants du paradis) is one such classic whose renaissance Sophie Seydoux followed step by step, as well as The Wheel (La Roue), a monumental undertaking, which allowed Abel Gance's masterpiece to recover its splendour and music for the big screen.
Making the sharing of cinema with other generations a priority, the Foundation plans year-round film series for schools. The theatre the foundation houses is one of the few in Paris that permanently screens silent flicks. This year, the audience of the Lumière festival will be able to discover the restored print of The Woman and the Puppet (La femme et le pantin) by Jacques de Baroncelli (1928) in a film-concert. A 4K restoration was carried out from the original negative with flash-titles, conserved in the collections of the Jérôme Seydoux-Pathé Foundation.

Fabienne Vonier
Co-founder of the company Pyramide, a producer and distributor, Fabienne Vonier was a major figure in French and international cinema. With Pyramide, she accompanied two generations of the most influential filmmakers of her time: Louis Malle (also co-founder of Pyramide), Alain Resnais, Tonie Marshall, Youssef Chahine, Nikita Mikhalkov, Elia Suleiman, Aki Kaurismaki, Fatih Akin, Benoit Jacquot, Claire Denis, Alain Cavalier, Nuri Bilge Ceylan and many others. After Fabinne Vonier's passing in 2013, a Prize bearing her name was created to honour female personalities in cinema.


With the support of producer Francis Boespflug, her husband, and also her children, the first Fabienne Vonier prize was awarded during the Lumière 2016 festival to producer Margaret Menegoz and distributor Régine Vial. Their talents elevated the production and distribution of French and international auteur cinema to the highest level, through the company Les Films du Losange. During the 2017 festival, the prize was conferred upon the founders of production and distribution company Haut et Court, Carole Scotta and Caroline Benjo. In 2018, producer Michèle Ray-Gavras was recognized for her important work in international film production. And in 2019, its laureate was Véronique Cayla, then President of Arte and recently elected President of the César Awards.
The 2020 Fabienne Vonier Prize
will be presented during the Lumière festival.
Look for further news about
the Prize presentation in
the Lumière daily newspaper.