---
PostED ON OCTOBER 15 AT 3 pm

---
The cinema produced four Fanfan the Tulipes. The first in was in 1907, directed by Alice Guy, the second in 1925 by René Leprince, and the most recent (2003), by Gérard Krawczyk starring Vincent Perez as the swashbuckling peasant.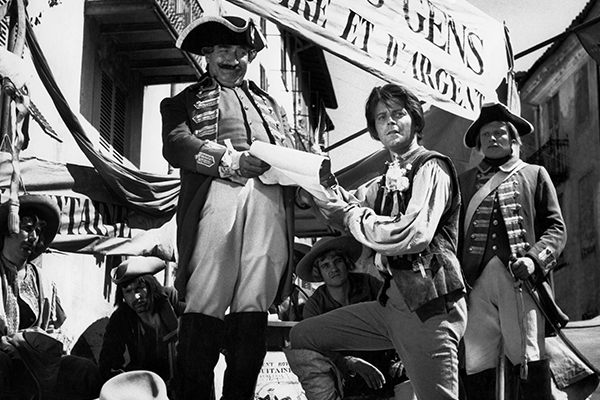 But history has really retained only one Fanfan; the version produced by Alexandre Mnouchkine, directed by the very experienced Christian-Jaque, for a leaping and bounding Gérard Philipe, 29 years old at the time, with a screenplay by Henri Jeanson, the author of Hôtel du Nord.

In 1951, the war was now quite far away in the minds of the French and the trend was towards opulent co-productions with Italy. These made it possible to offer great entertainment films, which charmed the public with a marked sense of the grandiose spectacle, inspired by American cinema of the time. Gina Lollobrigida was still only a star of popular photo novels during that period, but the success of the film opened the doors to an international career. The same applies to Gérard Philipe, a figure at the same time of the TNP of Jean Vilar. On screen, he had had successes since 1947 in beautiful, dark genres (Devil in the Flesh, The Charterhouse of Parma). But in Fanfan, he expressed a crazy and quite contagious vitality, first for himself, since, under the supervision of Gil Delamare, he decided to perform his own stunts.

When the flick was released in March 1952, Fanfan was seen by 6.7 million viewers, received awards in Cannes and Berlin and launched the vogue for the cape and the sword. It would even reach China, where the film remains the first French production ever dubbed in Mandarin.
Carlos Gomez
SCREENING
Fanfan la Tulipe by Christian-Jaque (1952, 1h42)
UGC Confluence Sat. 17 5 pm