---
PostED ON OCTOBRE 17 AT 6:08 PM

---
Prior to the Lumière Award ceremony, they talked cinema at the Célestins Theatre. The "brothers" invited two people on stage to speak in the name of the thousands of vulnerable hotel and restaurant workers and others, whose livelihood is being threatened by the pandemic.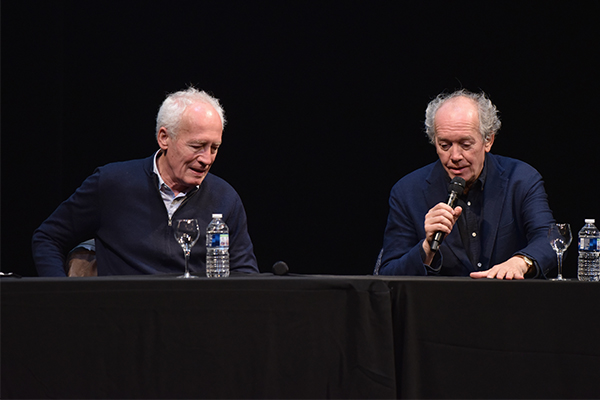 Copyright Institut Lumière / Romane Reigneaud - Jean-Luc Mège Photography
Luc Dardenne
Not much has changed since Rosetta. Since the film's release in 1998, social inequality has remained very high, both in France and in Belgium. The humiliation felt by those excluded from the community of work, and from the human community in general, persists.

Jean-Pierre Dardenne
Strictly speaking, we are not making activist films. We are interested in the singularity of each being that we film; our characters are never representatives of a cause, because they are only representatives of themselves.

Luc
Naturally, we are pleased that audiences like our films, but it is even better to make them 'become' Rosetta, sharing her distress as the film unfolds. So, we create a real existence for the character, filming in such a way that translates to a certain autonomy, where the character slips away from the viewer. The more elusive the character is, the more concerned you become, and the more you experience the transformation yourself. It permits the viewer to become someone else, like the socially excluded Rosetta, and it ensures that viewers won't discount her fate.
Luc
Technically, we start from a news item, then we talk about a character that we could put in a certain situation, and when we feel we have something to work with, we think about a series of scenes, a narrative of the action. "Rosetta: we exclude her from society." "Does she kill Riquet?" We are happy when we finally have the script. We then do the casting together, and we both rehearse for five weeks with our video camera, in previously-chosen settings, where we imagine where this or that wall will be, etc. We then discover our frames and do the "choreography" of the frames in the presence of our actors. Afterwards, we choose the costumes and we're ready to start filming.
Jean-Pierre
There is a DIY, 'handiwork' side to cinema, which is a lot of fun. Accessories are far from incidental, and their importance reflects the characters' deep interiority. The role of costumes is vital. The actors settle into in a sense of security when they see themselves in one attire or another. It dresses them in an image that complements their character. Yet, we like to contradict these, and to contradict each other - we love that. Because the less certain we are, the more we are in the present moment and the more the audience can identify with the characters.
Luc
Basically, we don't see things well by ourselves.
Jean-Pierre
Exactly, that's why it takes two. Sometimes we don't even know what our names are anymore. Jean-Luc? Pierre?
Luc
Style is created when you're looking for it, also with our cinematographer. For Rosetta, we got behind her and tried to follow her, we didn't get ahead of her character. We don't know where she is going, she doesn't know it herself, so we built that in as little as possible. Young Ahmed is racing toward death and no one is going to stop him, so we know we're going to be filming him in some kind of race.
Jean-Pierre
In our production, we try to give Rosetta a place, because she cannot find her place in society. It does not exist in the frame. There is a kind of truth of the matter, which begins to set, like when you start kneading dough, knowing it will rise. It's a back and forth.
Jean-Pierre
And you have to accept that you can't control everything, that the connections and melding will be done by the viewer. These cause anxious worries that we have when we work. Pialat called it having obsessions "up the ass". Since we're Belgians, we say it more politely, but that's the general idea.
Propos recueillis par Charlotte Pavard